How to Build a Water Garden Fountain
Not only is Ups-A-Daisy a great tool for indoor and outdoor container gardening, but it also forms a perfect setup for a water garden fountain. Using the following steps to create an Ups-A-Daisy water garden will spice up any indoor or outdoor display.
Supplies Needed: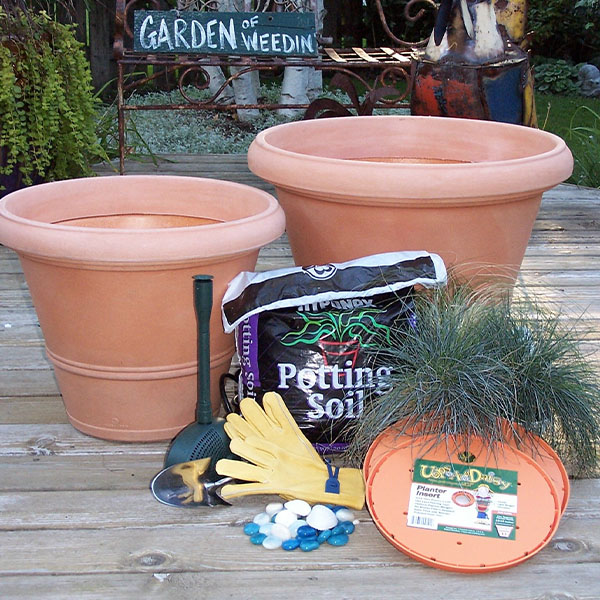 Two or 3* Ups-A-Daisy Planter Inserts (sizes will vary).
Two Containers (Note: The smaller container should not have any drain holes at the bottom).
One Small Pond Pump (a minimum of 100-gph).
Decorative Stones.
Potting Soil.
A variety of your favorite container plants.
* Larger containers may require an additional Ups-A-Daisy to raise the pond pump off the bottom
---
Water Garden Assembly: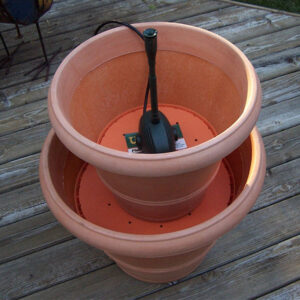 1) Place an Ups-A-Daisy into each container.
Place the smaller container on top of the larger container. Place the pump at the bottom of the top container.
Note: An additional Ups-A-Daisy was needed to raise the pump off the bottom.
---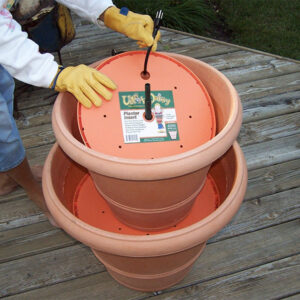 2) Position the Ups-A-Daisy over the pump in the container.
Feed the stem of the pump through the center hole. Run the electrical cord through the other large hole of the Ups-A-Daisy.
---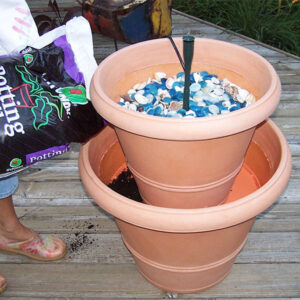 3) Now you are ready to place rocks (and aquatic plants if you wish) on top of the Ups-A-Daisy.
We recommend rinsing the rocks prior to placing them into the container to keep the water clean.
---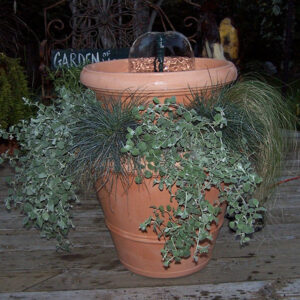 4) Fill the top container with water and enjoy! ​